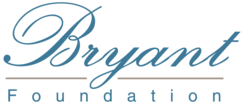 The Edwin E. and Janet L. Bryant Foundation, Inc. Scholarship Program
Application status: Closed
The Edwin E. and Janet L. Bryant Foundation, Inc. has established a scholarship program to assist former students of select Wisconsin communities' high schools listed below. Renewable scholarships are offered each year for full-time or part-time study at an accredited institution of the student's choice.
The Bryant Foundation has chosen to offer the program in all Wisconsin communities where Nelson Industries, Inc. had manufacturing plant locations, including Stoughton, which was the corporate headquarters for the company until its sale in 1998. Edwin E. Bryant, a benefactor of the Bryant Foundation, was founder, chairman and CEO of Nelson Industries, Inc. until his death in 1972. Nelson Industries, Inc. continued to be a very successful company and the Bryant Foundation board wishes to acknowledge the importance of all the locations that helped in the company's success by offering scholarships in these communities.
This program is administered by Scholarship America®, the nation's largest designer and manager of scholarship, tuition assistance and other education support programs for corporations, foundations, associations and individuals. Awards are granted without regard to race, color, creed, religion, sexual orientation, gender, disability or national origin.
Postmark Deadline: April 15, 2020