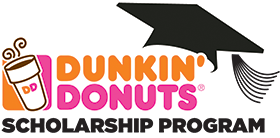 The 9th Annual Dunkin' Donuts Philadelphia Regional Scholarship Program
Dunkin' Donuts and its franchisees are committed to a strong local community. The Dunkin' Donuts Philadelphia Regional Scholarship Program has been established to recognize the importance of education and provide support to residents of the community and our extended corporate family. This program will award up to 25 $2,000 scholarships to qualified students throughout the region.
This program is administered by Scholarship America®, the nation's largest designer and manager of scholarship, tuition assistance and other education support programs for corporations, foundations, associations, and individuals. Awards are granted without regard to race, color, creed, religion, sexual orientation, age, gender, disability, or national origin.
Dunkin' Donuts has partnered with Scholarship America to assist students. Clicking "APPLY NOW" will bring you to Scholarship America's Student Hub.
APPLICANTS MUST BE:
High school seniors.
Planning to enroll in full-time study at an eligible* postsecondary institution in Fall 2018.
Be residents in one of the following:

Kent or New Castle counties in Delaware.
Atlantic, Burlington, Camden, Cape May, Cumberland, Gloucester, Mercer, or Salem counties in New Jersey.
Berks, Bucks, Chester, Delaware, Lehigh, Montgomery, Northampton or Philadelphia counties in Pennsylvania.

Have a minimum grade point average of 3.0 on a 4.0 scale (or its equivalent).
The application deadline is April 15, 2018.
*Eligible postsecondary institutions include: accredited two-year or four-year college, or university or vocational-technical school.
Up to 25 scholarships will be granted. If selected as a recipient, the student will receive:
A $2,000 award

Awards are for one year only and are not renewable.
Awards are for undergraduate study only.
Scholarship recipients are selected on the basis of:
Academic record
Demonstrated leadership, honors, and participation in school and community activities
Work experience
Statement of goals and aspirations
Unusual personal or family circumstances
An outside appraisal
*Please note, financial need is not considered.
Selection of recipients is made by Scholarship America. In no instance does any officer or employee of Dunkin' Donuts play a part in the selection. All applicants agree to accept the decision as final.
Notification Applicants will be notified in late May. Not all applicants to the program will be selected as recipients.
Payment of Scholarships Scholarship America processes scholarship payments on behalf of Dunkin' Donuts. Awards will be paid in one installment in early August.
As part of your application, you must upload the following documents by April 15, 2018:
A current, complete transcript of grades. Grade reports are not accepted. Unofficial or online transcripts must display student name, school name, grades and credit hours for each course and term in which each course was taken.
Also as part of your application, one online recommendation form must be submitted on your behalf by April 18, 2018.
Your application is
not
complete unless all required documents are submitted electronically.