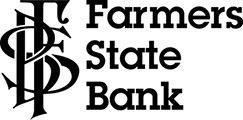 Farmers State Bank Education Scholarship Program
In 2001, Farmers State Bank established a scholarship fund to assist qualifying high school seniors continue their education. Each year, a $10,000 scholarship has been awarded to a student from a participating high school in Darby, Hamilton, Corvallis, Victor, Stevensville, Florence and Missoula. This year, the Bank will also award a scholarship to a senior from a participating school in Helena, site of the Bank's newest branch, for a total of $80,000.
To date, Farmers State Bank scholarships have benefited 133 students, with a total award distribution of approximately a million dollars. The awards are for $2,500 each and renewable for up to three years, based on full-time attendance at an accredited two- or four-year college, university or vocational-technical school, and a GPA of 2.0 or higher.
To ensure impartiality, this program is administered by Scholarship America®, the nation's largest designer and manager of scholarship, tuition assistance and other programs for corporations, foundations, associations and individuals. Awards are granted without regard to race, color, creed, religion, sexual orientation, age, gender, disability or national origin.
For program details, requirements and application forms, click "APPLY NOW" to visit Scholarship America's Student Portal. The deadline for applications is March 15, 2018.
APPLICANTS MUST BE:
High school seniors attending an eligible school*
Planning to enroll in full-time study at an accredited two-year or four-year college, university, or vocational-technical school
*Eligible high schools include:
Big Sky High School
Capital High School
Corvallis High School
Darby High School
Florence Carlton High School
Hamilton High School
Helena High School
Hellgate High School
Sentinel High School
Stevensville High School
Victor High School
&nbsp
NOTE: Dependent* children of Farmers State Bank employees are eligible to apply *Dependent children refers to natural or legally adopted child or stepchild of the employee who qualifies for benefits provided by the company.
Up to (9) awards will be granted. If selected as a recipient, the student will receive:
A $2,500 award
Awards may be renewed for up to three years with a maximum of $10,000 or until a degree is earned, whichever occurs first. Renewal is contingent upon satisfactory academic performance in a full-time course of study and continuation of the program by Farmers State Bank
Awards are for undergraduate study only
Scholarship recipients are selected on the basis of:
Academic record
Demonstrated leadership and participation in school and community activities
Work experience
Statement of goals and aspirations
Unusual personal or family circumstances
An outside appraisal
Although financial need is not considered, preference will be given to students whose family income is below $50,000.
Selection of recipients is made by Scholarship America. In no instance does any officer or employee of Farmers State Bank play a part in the selection. All applicants agree to accept the decision as final.
Notification Applicants will be notified in May. Not all applicants to the program will be selected as recipients.
Payment of Scholarships Scholarship America processes scholarship payments on behalf of Farmers State Bank. Awards will be paid in one installment in early August. Awards will be made payable to the institution for the student.
As part of your application, you must upload the following documents:
A current, complete transcript of grades. Grade reports are not accepted. Unofficial or online transcripts must display student name, school name, grades and credit hours for each course and term in which each course was taken.
Copy of the first two pages of the most recently filed IRS Form 1040 used for the Financial Information Page.
Also as part of your application, one online recommendation form must be submitted on your behalf by March 19, 2018 at 4:00 CST.
Your application is
not
complete unless all required documents are submitted electronically.