Applicants to the Fluidmaster Adolf Schoepe Scholarship must be:
Dependent* children, age 24 and under, of full-time Fluidmaster employees who have a minimum of one full year seniority with the company as of the application deadline.
*Dependent children are defined as natural and legally adopted children or stepchildren living in the employee's household or primarily supported by the employee.
High school seniors or graduates, or current postsecondary undergraduates, who plan to enroll in full-time undergraduate study at an accredited two-year or four-year college, university, or vocational-technical school for the entire upcoming academic year.
Children of employees in positions of Senior Staff and above are not eligible.
As part of your application, you must upload the following:
A current, complete transcript of grades. Grade reports are not accepted. Transcripts must display student name, school name, grades and credit hours for each course and term in which each course was taken.
NOTE: If you are providing SAT or ACT test scores, and those scores are not listed on your high school transcript, you will need to upload a copy of your test score report(s) separately. If you are uploading a college transcript, those scores are not required.
One online recommendation form must be submitted on your behalf no later than Wednesday, June 8, 2023 3:00 pm Central Time.

Your application is not complete unless all required materials are submitted electronically.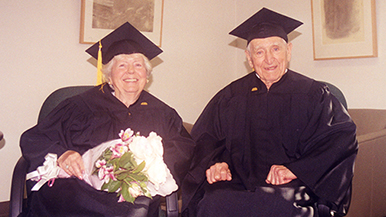 Adolf Schoepe was born on Jan. 1, 1904, in Berkenroth, Germany. He immigrated to the United States in 1927, arriving with $25 and unable to speak a word of English, but with a skill that was much needed in America at that time. He was a master metal worker and the infant aviation industry was then converting from wood-and-fabric construction to metal.
He worked for Curtis Aviation Co. in St. Louis, Spartan Aircraft in Tulsa, OK, for Goodyear Rubber Co. in Akron, Ohio, installing power plants in two new U.S. Navy dirigibles, the Akron and Macon. He then moved to Seattle, where he hand-crafted exterior parts to make molds for construction of the first of Boeing's renowned line of aircraft, which included the famous B-17 bomber of World War II and the new generation of 727, 737 and 747 passenger airliners.
Schoepe later worked on the Akron again at the Sunnyvale lighter-than-air base and was a foreman at metal shop at San Diego Naval Air Station until shortly before the United States entered World War II. He then taught welding in night classes to thousands of women when that skill was badly needed in wartime aircraft production.
As the war ended, Schoepe and a friend purchased a defunct lock-manufacturing plant in South Gate and went into business as Gateway Manufacturing Co., later to be renamed Kwikset. Schoepe's invention of a much improved lockset made Kwikset a national leader in the lock industry. Schoepe moved Kwikset to Anaheim in 1948 and soon became deeply involved in business and community affairs for the next half century. (See details below)
When the Korean War began, Kwikset also manufactured parachute flares and photo flash shells for the Army, which were flown directly to the combat zone. Later, he conceived the idea of seat belts in automobiles, which had routinely been installed in most of the earliest passenger airplanes, but the idea was years ahead of its time and no one was interested when he tried to market it.
Concept for a revolutionary toilet tank repair valve came to Kwikset in 1955; with plumbing rates outrageously high, a survey showed a potential market for such a do-it-yourself product. Schoepe sold his interest in Kwikset and opened a new company by himself in Anaheim on July 1, 1957, to perfect and market the new valve.
He named his new company Fluidmaster and when the valve was nearly ready, former Air Force pilot Fred Schmuck was hired as national sales manager. The company struggled for recognition when first marketed in 1958, and Schoepe used shares received from the Kwikset sale as collateral for loans to keep Fluidmaster afloat.
By using clever advertising and promotion some progress was made, but it would be 10 years before the company broke even. The breakthrough began in 1963 when sales doubled over the next 5 years. Sales tripled from 1968-73, then doubled every five years for the next quarter-century.
In 1998, Fluidmaster moved from facilities it had occupied for 37 years on Via Burton Way in Anaheim to its new corporate headquarters and production facility in San Juan Capistrano. Its products are sold throughout Europe, Australia, South America and most recently Asia. For years it has been the unchallenged leader in its field and currently holds an 80 percent share of market, an accomplishment that few American companies can claim.
On September 21, 2000, Mr. Schoepe was honored by the Naval Airship Association in Pensacola, FL, and presented a certificate of appreciation in recognition of his previous work on dirigibles and his longtime support NAA. That day was designated "Adolf Schoepe Recognition Day" at the Naval Aviation Museum in Pensacola.
ORANGE COUNTY COMMUNITY SERVICE: Helped revive the Association of Chambers of Commerce; member, president of Anaheim Chamber of Commerce, 1951; helped found Orange County Chamber, 1954; headed first United Fund drive in Anaheim, directed poorly-supported Community Chest in first successful fund drive; joined Aid to Givers; led successful fundraising drives to build St. Jude Hospital in Fullerton and new Fullerton YMCA building; worked tirelessly for Boy Scouts as a member of Orange County Council board for 30 years, awarded national Good Scout Award in 1987 at the age of 83.
Looking back at his long career, Mr. Schoepe had this to say: "The greatest satisfaction of all comes from serving and earning the trust of millions of people with products that proudly carry the Fluidmaster name. It makes those early years of painfully slow progress, struggles for recognition, and continuing financial problems all very much worthwhile."
Mr. Schoepe passed away in 2001, but his ideals live on. His belief and respect for his fellow man and his desire to create an entrepreneurial spirit has resulted in the creation of this program. We, at Fluidmaster, want your children to have the opportunity to reach their dreams through higher education.