The Bob Leonard Memorial Scholarship Program was established by IHOP to honor Bob Leonard, a longtime employee, operator and friend of the brand. The program aims to assist eligible students who plan to continue their education via college, vocational or graduate school. Scholarships are offered annually for full-time study at an accredited institution of the student′s choosing.
About Bob Leonard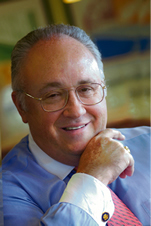 Bob Leonard was born and raised in Iowa and showed a passion for the restaurant business and hospitality even at a young age. He used to credit an early job at Rastrelli's, a local restaurant in Clinton, Iowa, as giving him a love for the foodservice industry, a love that never wavered over the course of a multi-decade career. After graduating from the University of Iowa and serving in the Army, Bob became the National Director of Training for a large hotel company where he honed his skills for teaching others before joining IHOP where over the course of eight years he excelled in various operational roles, including serving as Vice President of Operations. Following a successful career at IHOP corporate, Bob went on to join what was then the brand's largest franchise group, FMS Management, located in Florida, where he spent almost three decades in senior-level positions before retiring in 2008 as President and CEO of FMS.
During his time as an operator, Bob remained committed to doing what was right for both franchisees and the brand. Always the consummate problem solver, he took great pride in being able to find solutions that benefited everyone. For almost 20 years, he served as Chairman of IHOP's Franchise Leadership Council as well as lent his talents to a number of franchisee advisory committees with oversight of national marketing, procurement and new products. In addition, he was a member of the Florida Restaurant Association (now FRLA), including a stint as President, and served on the advisory boards of the Department of Business and Professional Regulation, Restaurant Management Certification Advisory Group, Workers Compensation Employee Advisory Group, the Governor's Task Force on Child Labor, as well as a Commissioner on the Florida Building Commission. He was also active in various civic organizations and was voted the Children's Home Society's "Man of the Year". Upon the sale of FMS to Argonne Capital Group, Bob stayed on as a Board Member of the new company, Sunshine Restaurant Partners and played a key role in helping grow and manage their next addition, Peak Restaurant Partners.
With more than 50 years in the restaurant industry, Bob was beloved by many across the IHOP organization and throughout the foodservice industry. Bob left an imprint on every facet of the IHOP brand and will always be remembered for his passion, pride and partnership. Our hope is that his dedication to the brand, the industry and the many communities he made a difference in will inspire the next generation of leaders.
The scholarship program is administered by Scholarship America®, the nation's largest designer and manager of scholarship, tuition assistance and other education support programs for corporations, foundations, associations and individuals. Awards are granted without regard to race, color, creed, religion, sexual orientation, gender, disability or national origin.