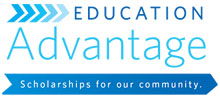 Takeda Education Advantage Scholarship Program
Application status: Closed
The Education Advantage program represents Takeda Pharmaceutical Company Limited's ongoing commitment to the bleeding disorders community.
Applications are submitted to Scholarship America®, which administers the program. Scholarship America is the nation's largest designer and manager of scholarship, tuition assistance and other education support programs for corporations, foundations, associations, and individuals.
Click the appropriate button below for more information on the program and to access the application for the available Education Advantage programs.
For applicants who are pursuing a bachelor's degree at an accredited four-yer college or university.
For applicants who are pursuing an associate's degree or a technical/vocational certificate
at an accredited two-year community or junior college or vocational-technical institution.
Applicants who have passed the GED test can apply for a $150 reimbursement for text expenses.
Due to the COVID-19 pandemic, Scholarship America is implementing social distancing and providing customer service remotely by email. Please email takeda@scholarshipamerica.org for assistance. You can expect a response within one business day.